Strategic cooperation of Autodesk and SOLAR COMPUTER

The strategic cooperation between Autodesk and SOLAR-COMPUTER has been further strengthened. SOLAR-COMPUTER is now "Preferred Industry Partner" of Autodesk. A close cooperation between the development departments of both companies has resulted in the programming of the GBIS tool. GBIS is the abbreviation of "Green Building Information System" and is an intelligent link between AutoCAD MEP and the Building Service calculation software of SOLAR COMPUTER. Architects, professional building services planner, designer or contractor can now optimize their coordination within the projects in a highly flexible way.
Additional information:
AutoCAD MEP is an AutoCAD based solution from Autodesk for the supporting the mechanical, electrical and plumbing design processes. It offers the user subject specific planning and documentation tools. As part of the "Preferred Industry Partner" programme Autodesk offers specific software tools and services, e.g. for architecture & building services, which are developed and link by partner companies. This close cooperation is not only limited to the development, but also to marketing and sales. The customer benefits from tailor made software solutions to the highest technical level, as individual know-how from different areas and specialised companies is combined.
For over 30 years, our German parent company "SOLAR-COMPUTER GmbH" has been developing high-quality standardised calculation software for building physics, energy, heating, sanitary, climate, ventilation and economic efficiency. This technical edge and know-how is now brought into this partnership with Autodesk. The user benefits tremendously as the package provides assistance throughout all project phases.
GBIS - the interface between SOLAR-COMPUTER and AutoCAD MEP:
GBIS is more than just an interface. GBIS connects AutoCAD MEP with SOLAR-COMPUTER calculation programs for buildings and systems in an intelligent way. GBIS creates SOLAR-COMPUTER toolboxes in the user interface of AutoCAD MEP, checks drawings for "incalculable drawing errors" and prepares drawing data for calculation purposes. The real advantage, however, is the integration of the calculation results in form of automated data updates, labels or dimensional adjustments within the drawings.
Moreover, GBIS provides a visualisation of radiators, pipework etc. of all results within the AutoCAD MEP drawings. In the background, it saves any linked data for comfortable and efficient working throughout all consultation, planning and implementation phases.
SOLAR-COMPUTER is

SOLAR-COMPUTER Offers:
Calculation Software – Product Catalogue Please download the product catalogue as pdf file here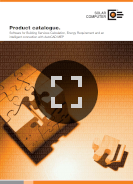 GBIS – The Intelligent Connection




Guarantor for...
innovation
success
quality
service