Modular Structure
Since the very beginning of SOLAR- COMPUTER the modular structure is one of our core competencies. We do not offer applications in isolation as we are convinced that an intelligent interface to combine the applications is crucial.
mehr
The Modular Structure of SOLAR-COMPUTER Software Facilitates Parallel And Process Orientated Working



On complex projects numerous designers are often working simultaneously on different phases and packages. SOLAR-COMPUTER software supports this with its unique modular concept. Each module can be used as a stand-alone software, however, maximum benefits are achieved by its ability of data exchange and transfer in-between the various SOLAR-COMPUTER modules.

In addition, external data (from e.g. key suppliers and manufacturers of components) can be imported into the SOLAR-COMPUTER calculation software.
SOLAR-COMPUTER is

SOLAR-COMPUTER Offers:
Calculation Software – Product Catalogue Please download the product catalogue as pdf file here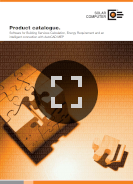 GBIS – The Intelligent Connection




Guarantor for...
innovation
success
quality
service